A winter story for the shortest night of the year.
Jan Edwards
The King sent his Lady on the Thirteenth day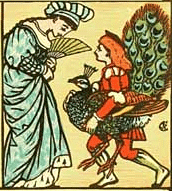 Three stalks of corn.
Two maids a-merry dancing.
Three hinds a-merry dancing
An Arabian baboon.
Three swans a-merry swimming
Three ducks a-merry laying.
A bull that was brown.
Three gold spinks[1]
Three starlings
A goose that was grey.
Three plovers
Two partridges, and a papaingo-aye[2].
Who learns my carol and carries it away.
(trad. Old Scottish carol to tune 12 Days of Christmas)
***
A story for the Winter Solstice
Thirteenth Day – Jan Edwards
'The second day,' said the Holly-Man. He was rugged. Fragile. A woodsman in a shabby green duster and heavy boots. Behind him stood a boy in an Acorn-hat, waiting in silence.
Kat tweaked a tight smile and went on hacking at the ice-bound soil, hoping they would take a hint and leave. They didn't.
View original post 1,543 more words